At the invitation of Mr. Khokhlov, artistic director of the Moscow International Gnessin Summer School, a group of pianists from Nanyang Academy of Fine Arts (Singapore) with their teacher, Professor Rena Cheung Phua, visited Gnessin Summer School in August 2018. For most of the students, it was the first travel experience, and for all, the first experience of working closely with Russian musical education system. After 11 days of master-classes, workshops, concerts, excursions and communications with peers, 13 Singaporean pianists left home inspired to be back to Gnessin School again.
Professor Rena Cheung told about the structure of music education in Singapore and shared her impressions of Gnessin Summer School just before the concert of her students: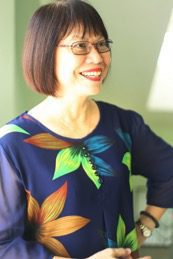 – There are two music universities in Singapore: one university is based on the American system of study, the other – on the British. At the Nanyang Academy of Fine Arts, teaching is carried according to the British system: for 3 years students study in Singapore, then pass an exam and for the next 2 years they are constantly in collaboration with the Royal College of Music in London. Of these 2 years, for the first year and a half students continue to study at home, and in the remaining six months they can go to the UK and get about 11 classes with teachers on the eve of the final exam. Thus, an Academy diploma is also confirmed by the Royal College of Music in London.
The training is based on the following plan: for the 3 years, the first semester is devoted to the improvement of the pianist technique – students play a lot of exercises and learn Piano Sonatas by Scarlatti. During the second semester, they prepare for the final concert (each studying year ends with a concert exam). Its timing at the first year is up to 25 minutes, in subsequent years it increases (the graduate's concert lasts about an hour).
During every week, students get only one individual class with a professor. Also every week there is two-hour group class where students perform in front of each other, playing their piano program, and then they discuss these performances. So they can trace the personal progress of each student. At such classes professors give tips about performing on stage, so they pay special attention to artistry issues. Important elements of the training program are classes in which students are taught the basis of management: how to develop independently and adapt in the music field after graduating from the Academy, how to make a resume, find interesting music projects. In Singapore, they believe that the opportunity to find a job depends directly on the students themselves.
A feature of the Academy is a combination of classical and modern arts, as well as their cooperation. Thus, the music department produces 2-3 intermedia projects per year, holds many concerts, and also organizes an international piano competition. The Academy has a branch of Chinese folk instruments, which preserve carefully the national performing traditions, although the piano is considered the most popular musical instrument in Singapore today.
– In Summer Schools in China, as well as in the many other summer schools that I attended it's more common to work on performing techniques. But here (in Gnessin Summer School – ed.) my students took a fresh look at performing art. Teachers in Gnessin Summer School paid more attention to the musical content, taught to feel the music, helped students to immerse themselves in the historical context of a work.
That's why Rena Cheung helped students to select the program they brought to Gnessin Summer School carefully: they performed a lot of Russian music. And largely due to master classes with Russian teachers, it became clearly for students from Singapore what kind of music they perform. They have completely changed their views on the music they performed.
-This was what I wanted when I invited my students to visit Russia. They tried to prepare the program well to show themselves professionally here, and the master classes at Gnessin Summer School helped them to take a fresh look at the performing process. We also really liked the historic school building: there is music everywhere, the atmosphere is friendly and very creative – it inspires students to take part in classes and support their desire to listen to music.
Rena Cheung suggested that this was not their last visit to Gnessin Summer School and expressed her wish that the master classes for pianists should include such forms of training as an ensemble for interaction between pianists in chamber ensembles and with an orchestra).
As part of Summer School, it was a concert «Singapore-Moscow» where Rena Cheung's students performed Russian music, which they felt through again thanks to the classes at Summer School. Singapore Ambassador Lim Kheng Hua and her family were at the concert. After the performance of compatriots, she offered Mr. Khokhlov to continue creative interaction, organizing joint musical projects. Ms. Lim Kheng Hua also noted that the arrival of a group of students from the Nanyang Academy of Fine Arts, is the first major musical delegation from Singapore in Moscow.
Maya Dinova